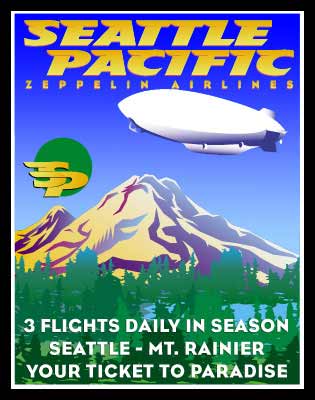 Shocking news!
Recent discoveries indicate that in an alternate timeline, the company which produced the poster above makes money hand over fist over jowl!
For a printable PDF, click the image.
UPDATE: I've realized that I misused the word "Zeppelin" in the poster. Since I depicted the Cargolifter dirigible and not the currently-flying Zeppelin NT I suppose I should change it to Seattle Pacific Dirigible Airways, or mayy-be Seattle Pacific Air Dirigibles. That would have the added benefit of gently teasing the Germans with the acronym SPAD, an obvious nod to some very excellent and fast areoplanes from the Great War which were 100% French! Whoo! Vive la Brie! J'aime bien les brioches! J'ecoute Serge Gainsbourg!